WE HAVE LAND OWNER VOUCHERS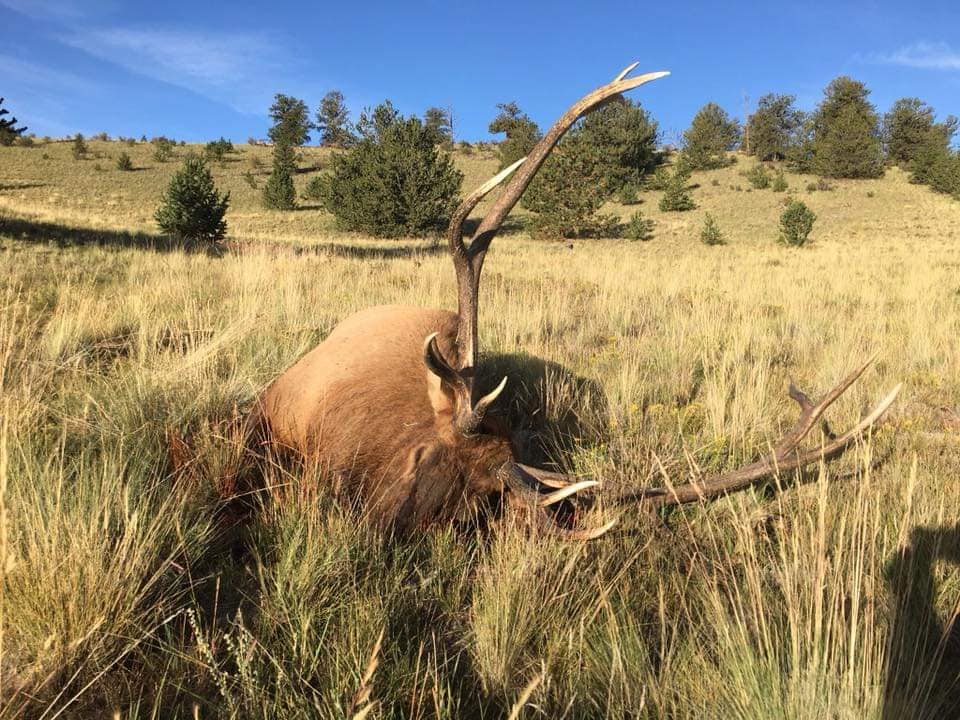 Our GMU 50 hunt takes place on 9,000 acres of private property that covers wide open spaces, Aspen stands, and dense timber. We also have over 30,000 acres of permitted BLM and state land. You'll also have access to thousands of acres of national forest within the unit. This unit offers trophy elk, mule deer, and antelope.
You will arrive the day before your hunt where you'll be greeted by our friendly staff. You'll be able to offload your gear to our 4,800 square foot lodge cabin
stocked with a full kitchen, running water, heat, wood stove, and everything you'll need for a great hunt.
Once your gear is ready, we will meet to discuss the hunt area and go over any questions. The next morning, we will be up before sunrise and getting ready to head out. Depending on the animal movement and weather, we will have a game plan in place to get you in the right areas to find your trophy. Hunts are typically spot and stalk but can be altered to fit your needs.
Evenings are spent at the lodge enjoying a warm wood fire. This is where we believe some of the best memories are made. Talking about past and present hunts, relaxing, and enjoying old and new friends. Our goal is to provide you an enjoyable and rewarding hunting experience.
Once you get your trophy, you will have a guide assist you with packing it out. We will get your meat to a processor and your cape to a taxidermist if you plan on having it mounted. Once your tags are filled, you're welcome to stay at the cabin for the remainder of your time and enjoy the area or head out to show family and friends your success.
September 2nd-30th (5 Day Hunt)

September 11th-19th (5 Day Hunt)

October 30th- November 2nd
November 3rd-November 7st
November 13th-19th (Extra days can be added)
October 2nd-10th (Extra days can be added)
Resident Tags
Bull/Cow Elk - $55.43
Mule Deer - $40.24
Antelope - $40.24
Non-Resident Tags
Bull/Either Sex Elk - $670.25/p>
Cow Elk - $503.12
Mule Deer - $401.83
Antelope - $401.83
ALL DATES FOR ALL GMU'S ARE FOR THE 2021 SEASON.
This fantastic unit offers lots of options with an elk season that runs from October 15th through January 31st. You provide your own lodging breakfast and dinner. We provide lunch, drinks (non-alcoholic), snacks, guide, transportation, game care, delivery of game to processor and/or taxidermist. Tags are either sex and are over the counter. We carefully monitor the heard population to ensure success. Make no mistake, this is not a high fence hunt. These animals are 100% wild. 
This hunt allows you to pursue an elk in the plains of Colorado through rolling hills. This is a physically easy hunt and is fantastic for hunters bringing kids to experience such a great opportunity. Bull hunts are sold at 5 days and cows at 3 days..
The antelope hunting is some of the best in the state with trophy bucks. Archery has an 90% success rate. We have several landowner vouchers available for purchase and archery is generally drawn with zero preference points.
August 15th – 31st (Bucks only)
September 1st – 20th (Either sex)
September 21st – 29th (Either sex)
October 2th – 10th (Extra days can be added)
October 15st – January 31st
Resident Tags
Bull/Cow Elk - $55.43
Antelope - $40.24
Non-Resident Tags
Either Sex Elk - $670.25
Antelope - $401.83
ALL DATES FOR ALL GMU'S ARE FOR THE 2021 SEASON.
This is a great do-it-yourself hunt on 360 private acres of Eastern Colorado. There are plenty of antelope in the area and is a great hunt for new hunters or hunters bringing kids. A guide will show you the property and answer any questions you may have.
Resident Tags
Antelope - $40.24
Non-Resident Tags
Antelope - $401.83
ALL DATES FOR ALL GMU'S ARE FOR THE 2021 SEASON.
This is a do-it-yourself hunt on over 3,000 acres where true trophy mule deer roam. The property sits along the Arikaree River with large food plots of corn, millet and water tanks. Takes 0-1 preference point to draw, but we do get some landowner vouchers! These hunts normally go for over $7,000!
There is also some limited antelope hunting on the property as well that will also be DIY.
Antelope Rifle - October 2nd - 10th
Mule Deer - October 30th - November 9th
Mule Deer - December 1st - December 14th
Resident Tags
Antelope - $40.24
Non-Resident Tags
Antelope - $401.83
ALL DATES FOR ALL GMU'S ARE FOR THE 2021 SEASON.

Frequently Asked Questions
Eastern Plains Outfitters is a non-smoking operation.
We recommend a minimum of a .243 for antelope and mule deer and .270 for elk. I use a 30-06 with a 165 grain bullet for all three animals as this allows plenty of distance and power. Remember that Colorado can be windy at times so you want a cartridge that will withstand the wind.
Most shots range between 200-300 yards. We've had some hunters successfully take shots over 400 yards. We will talk about your comfort distance while heading to the ranches.
Colorado law requires every big game rifle hunter to wear 500 square inches of blaze orange above the waist. It must be solid daylight fluorescent orange or solid florescent pink material on an outer garment while hunting deer, elk, pronghorn, bear, or moose during a muzzleloading or rifle season. Part of the fluorescent orange must be a hat or head covering visible from all directions. Camouflage orange or camouflage pink does not meet this requirement.
Gratuities are always appreciated for our hard working crew. A good rule of thumb is 10-15% of hunt cost, but tip how you feel.
If you're hunting GMU 50 then you'll stay at our hunting lodge cabin. If you're hunting GMU's 87 or 89 then there are several hotels in the area along with campgrounds. Give us a call and we would be happy to assist you with lodging.
Yes. We know that people like to celebrate a successful hunt with a drink of their choice. However, alcohol will not be allowed while actively hunting.
I have seen temperatures from 80 degrees to near zero in October and November. GMU 50 averages in the high 50 degrees and GMU's 87 and 89 average in the 60's. We always recommend planning for all weather types from warm days to snow.
Denver International Airport (DIA). DIA is about an hour away from GMU's 87 and 89 and 1.5 hours from GMU 50.